Drift
Below is the brief for the Leisure project. This project was completed with Aoife Ní Mhóráin, Martin Heaton and Tiago Borges da Silva.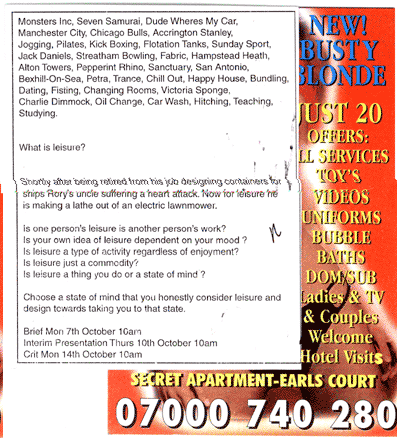 Initially, we set about the task of defining what leisure was and how you got it. (Excerpts from project presentation follow in italics).
What is leisure?
Our definition of leisure is:
Being in the moment.
Our project aims to get people to this state of mind.
How do you get it?
Ways in which people get "into the moment":
By acting in an extreme fashion- adrenaline sports or the opposite - meditation
By acting in a contrasting style to their idea of work.
By altering the location of motivation, from external to internal or vice versa.
We made the following observations:
Singing in the shower
Why you have to watch a movie that is on TV even if you have it already - being in the moment.
Not stepping on the cracks when you walk down a road.
Watching people play. Dance Dance Revolution.
We are interested in working between socially constructed boundaries:
Society/Individual
Work/Leisure
Pain/Pleasure
What we are trying to achieve:
Get people into a moment.
Encourage exploration of space.
Breaking artificial and destructive concepts of self - see Gap adverts.
Create a democratic means of un-organised communication
We hit upon the following area to concentrate our efforts and research on:
Sound is an effective method for achieving the goals set out previously.
Music is a universal and familiar form of expression and communication.
Music's direct emotional impact makes it useful for our purposes.
And made the following proposals for extra exploration:
Street based composition
Zone themed sound
What kind of sound? And how publically is it communicated?
Alliances based on taste and nothing else - sound grouped by emotional impact not prescribed genre.
Manifestation - portable and personal or location based.
Organic evolution of sound into musical structures rather than the imposition of structures.
Finally, we created a video of our experiments in a space which we had covered in microphones, tape players and speakers. Please see stills from the video below.
Finally, an mp3 file of some of the activity in the space.
| | |
| --- | --- |
| | Aoife walking through the space. |
| | Aoife and Martin in the main space with microphones. |
| | Martin surveying our equipment in the main space. |
| | Me working on the stairs between the two spaces. The wire in the still above runs to the microphone I am using. |
| | Close work with the microphone. |
| | Martin spitting some rhymes. |
| | Aoife in the main space with two speakers visible, feedback was an interesting feature. |
| | Tiago on the stairs. |
| | Tiago on the stairs selecting his next instrument. |
| | Our lovely AV man in the lower space. The wires from the mixer run around in the lower space and up into the main space. (See picture below). |
| | Wires bridging the main and lower spaces. |